CONTENTS
INTERNATIONAL CURATOR COURSE
INTRODUCTION
The Gwangju Biennale International Curator Course is an education program specially designed by Gwangju Biennale Foundation since 2009 for emerging curators, art practitioners to cultivate expertise in curating and organizing exhibitions. The course has been acknowledged as excellent for providing its participants with a month long intensive training course to help them to build specialized knowledge on contemporary art and to sharpen the curatorial skills through hands-on experience. The lectures and discussion sessions linked with the preparation of the year's biennale preparation, in particular, is highlighted with eminent faculties and guest lecturers from the field composing its leading educational contents of contemporary art discourses.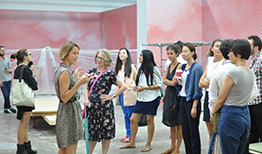 Class scene of Ute Meta Bauer,
the 2011 International Curator Course Professor
CURRICULUM
Curators and the director of the year's biennale are included as faculty members allowing the access to the behind scene of the biennale preparation while participants are discussing the critical issues in today's visual culture as the topic of the program. Field trips to art sites and artists' studios in Gwangju and Seoul go side by side with workshops, group studies, and special activities in order to heighten the quality of students' collaborative studies and researches. Such curriculum aims to help students widen the network of contemporary art practitioners and form a foundation from which they can become international art organizers while providing each individual opportunity to improve his or her capacity specialized in curating visual art and culture with diverse themes and genres. As 25 or so alumnae from each course have built close network, they continue their relationship with each other exchanging ideas and information and laying foundation for their growth.
PROFESSORS
Since its inception, the GBICC has been privileged to have eminent professors with years of experience in organizing international exhibitions and teaching. They include: Barbara Vanderlinden, the Founder and Artistic Director of the Brussels Biennial, followed by Dan Cameron, the Artistic Director of Prospect New Orleans Biennial and Ute Meta Bauer, Dean of the School of Fine Art at the Royal College of Art in London, Jens Homan, Deputy Director of The Jewish Museum in New York, Carol Inghua Lu, one of the Co-Artistic Directors of 2012 Gwangju Biennale, Maria Lind, the Director of Tensta Konsthall in Stockholm, Ruth Noack, Art critique and curator, having curated Documenta 12, Kassel and Joanna Warsza, curator and head of the curatorial program CuratorLab at Konstfack in Stockholm.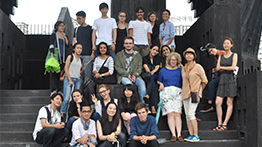 Part of the 2012GBICC, the 4th curator
course taking place at Mugaksa