Notice
광주폴리
Title
2016 Gwangju Biennale Forum
2016 Gwangju Biennale Forum
To All the Contributing Factors
2 – 4 September 2016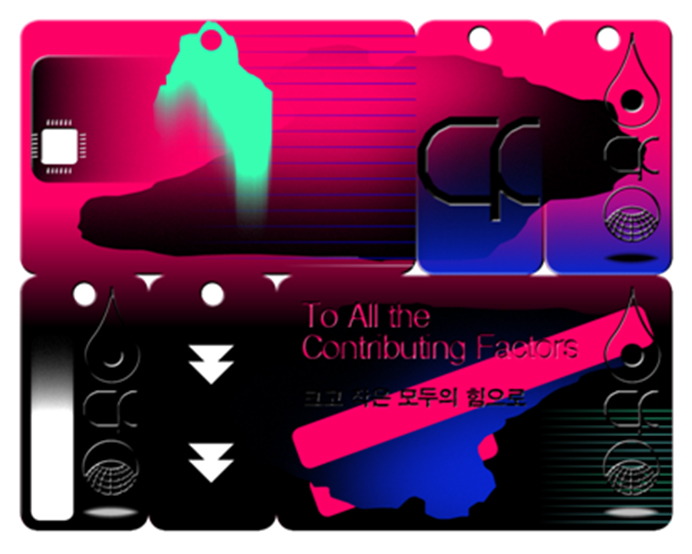 Image by Metahaven, participants in the 11th Gwangju Biennale
Venues
Gwangju Biennale GasigiHall, Asia Culture Complex (ACC), 518 Archives, Gwangju International Center(GIC), Mite-Ugro, The New Center and Mudeungsan National Park.


Introduction
To All the Contributing Factors is a forum organized as part of GB11, discussing work bysmall- and medium-scale art organizations across the world with regards to questions of value, continuity, and scale, and imagining acts in common.
Roughly one hundred organizations whose work makes important contributions to the art of today are invited to become Biennale fellows. In their role as fellows they simply go on doing the great work they are engaged with in their own contexts, placing art center-stage there, without being concretely involved with the Biennale in Gwangju. Distinct from bigger-scale art institutions such as museums, art fairs, and biennales, these organizations often function as the research and development department of the art world, generating ideas and shaping new curatorial and educational methods. Above all, they actively support artists in experimenting, and cultivating their practices, and nurturing contacts including neighbors and various practitioners from other fields. Yet the significance of their work is not fully acknowledged in a wider art and social ecology, while the increasing precarity of their self-determined marginal, or minor, positions in the climate of austerity and various crises is palpable. What if we connect the dots and manifest a critical mass to commit to these shared concerns?
The forum together with the fellows call for the gathering of all those who are interested in and working with art through such organizations.The forum consists of public readings, lectures, screening, performance, workshops, and a plenary session. It ends with a hike in the hills around the Mudeungsan Mountain and planned as a meeting ground where a large-scale event could be the occasion for exchange and debate among smaller agents, beyond biennale routines such as representation, promotion, and city branding.
Sharing common issues – such asgentrification; the point of view of labor; new relations between machines, animals, and humans; the exchange and exploration of different working methods and tactics, and creation of the axis of the study on the value, continuity and scale – a new multi-organizational field might take shape.

Keynote speakers & collaborators
Speakers:Han Kang(author), Shin Ji Young(researcher), Hu Fang(poet/gallerist), Fernando
Garcia-Dory(GB11artist), Andrea Philips(art theorist)
Collaborators: GB 11 Fellows, Mohammad Salemy(GB11 artist)

Program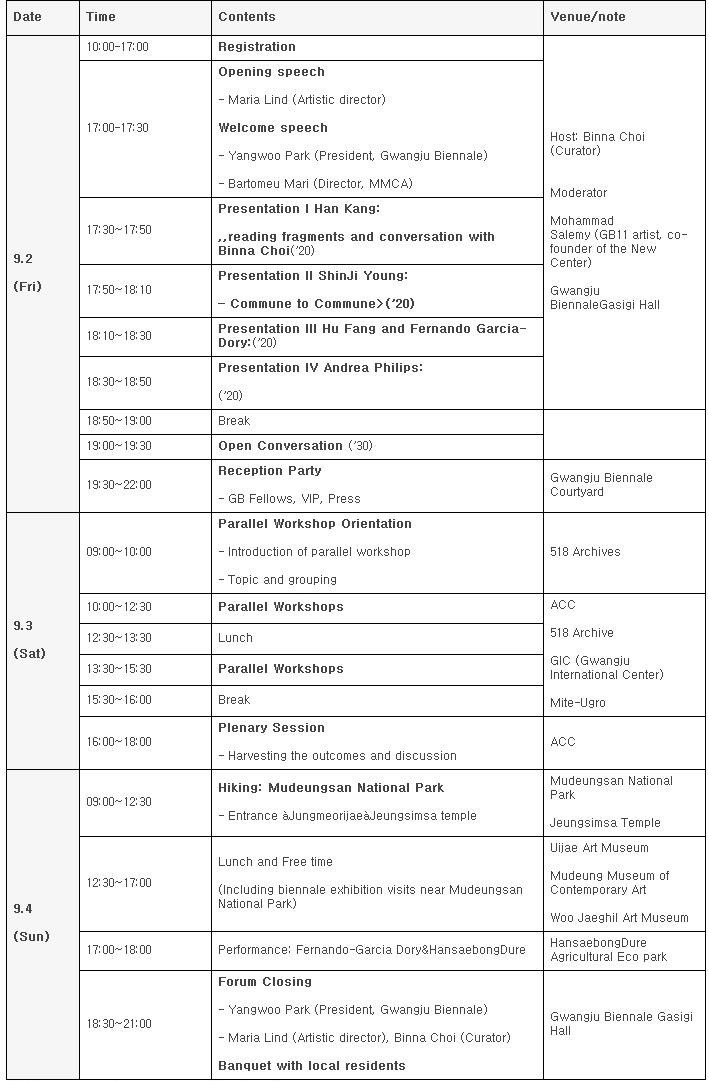 ※ Programs and events are subject to change.
18:00~20:00 Woo-jin Kim's solo exhibition opening (Mite-Ugro)
19:00~21:00 Asian Arts Space Network Opening Party (ACC)
20:30~21:00 Film Screening:Cooperativa Crater Invertido (GB11 artist and Fellow)
Holiday: How come some leave, and others stay behind?> (ACC)
98weeks (Beirut), Al-Ma'mal Foundation (Jerusalem), am Art Space (Shanghai), Art Group 705 (Bishkek), Art Sonje Center (Seoul), Artspace(Auckland), Art Space Pool (Seoul), AshkalAlwan(Beirut), Arts Initiative Tokyo (Tokyo), Asia Art Archive (Hong Kong), Audio Visual Pavilion (Seoul), BAR project (Barcelona), Beta-Local (San Juan), Bétonsalon —Center for Art and Research and Villa Vassilieff(Paris), Britto Arts Trust (Dhaka), Bulegoazenbakibarik(Bilbao), CAMP (Mumbai), Campus in Camps (Palestine), Careof (Milan), Casa do Povo(Sao Pãolo), CASCO– Office for Art, Design and Theory (Utrecht), CCA Estonia (Tallinn), CCA Glasgow (Glasgow), CCA Lagos (Lagos), Centro de Arte Dos de Mayo (Madrid), Chimurenga (Cape Town), ChtoDelat (St Petersburg), Clark House Initiative (Bombay), Community Space LITMUS (Ansan), CooperativaCráterInvertido (Mexico City), Council (Paris), Delfina Foundation (London), Departamento de Arte, Universidad Di Tella, (Buenos Aires) DiscLab l Research and Criticism (Virtual / Philippines), Eastside Projects (Birmingham), e-flux (New York), Forum Lenteng (Jakarta), GaleriefürZeitgenössischeKunst (Leipzig), Grizedale Arts (Cumbria), Henie OnstadKunstsenter (Oslo), If I Can't Dance, I Don't Want to Be Part of Your Revolution (Amsterdam), INCA: Institute for New Connotative Action (Seattle), Institute of Modern Art (Brisbane), Jubilee (Brussels), KADIST (Paris / San Francisco), Khoj, International Artists' Association (Delhi), kim? Contemporary Art Centre (Riga), Konsthall C (Stockholm), KUNCI Cultural Studies Center (Yogyakarta), Kunsthal Aarhus (Aarhus), KunsthalleLissabon (Lisbon), Latvian Center for Contemporary Art (Riga), Les LaboratoiresD'Aubervilliers (Aubervilliers), Lugar a dudas (Cali), Marabouparken (Sundbyberg),
Minatomachi Art Table, Nagoya (Nagoya), Mite-Ugro (Gwangju), Museo Experimental el Eco (Mexico City), Mustarinda (Hyrynsalmi), Nile Sunset Annex (Cairo), NTU Centre for Contemporary Art Singapore (Singapore), OCAT Shenzhen (Shenzhen), Office of Culture and Design (Manila), Open School East (London), P! (New York), P74 (Ljubljana), Pages Magazine (Rotterdam/Tehran), Para Site (Hong Kong), Pathshala South Asian Media Institute (Dhaka), Portes et Passages du Retour (Joal), Pro Qm(Berlin), RAW Material Company (Dakar) REDCAT (Los Angeles), RIWAQ (Ramallah), ruangrupa(Jakarta), SA SA BASSAC (Phnom Penh), Savvy Contemporary (Berlin), SBC Gallery of Contemporary Art (Montréal), Space Heem(Busan), SPOT (Istanbul), Spring Workshop (Hong Kong), ST PAUL St Gallery, Auckland University of Technology (Auckland),Taipei Contemporary Art Center (Taipei), Talking Art (Seoul), Tenstakonsthall(Stockholm), TEOR/éTica(San José), The Bamboo Curtain Studio (Taipei), The Book Society (Seoul), The Center for Land Use Interpretation (Culver City, CA), The Common Guild (Glasgow), TheCube Project Space (Taipei), The Israeli Center for Digital Art (Holon), The National Centre for Contemporary Arts (NCCA) – The Ural Branch (Ural), The Reading Room (Bangkok), The Showroom (London), The Western Front (Vancouver), Times Museum (Guangzhou), Townhouse Gallery (Cairo), Tranzitdisplay (Prague), tranzit.hu (Budapest), Triangle (New York), Triple Canopy (New York), Vitamin Creative Space (Guangzhou), What, How & for Whom/WHW (Zagreb), Witte de With (Rotterdam), Work on Work (Seoul)
Email mihyun.jang@gwangjubiennale.org