Notice
광주폴리
Title
The 7th Gwangju Biennale International Curator Course: Call for Applications
The 7th Gwangju Biennale International Curator Course: Call for Applications

Gwangju Biennale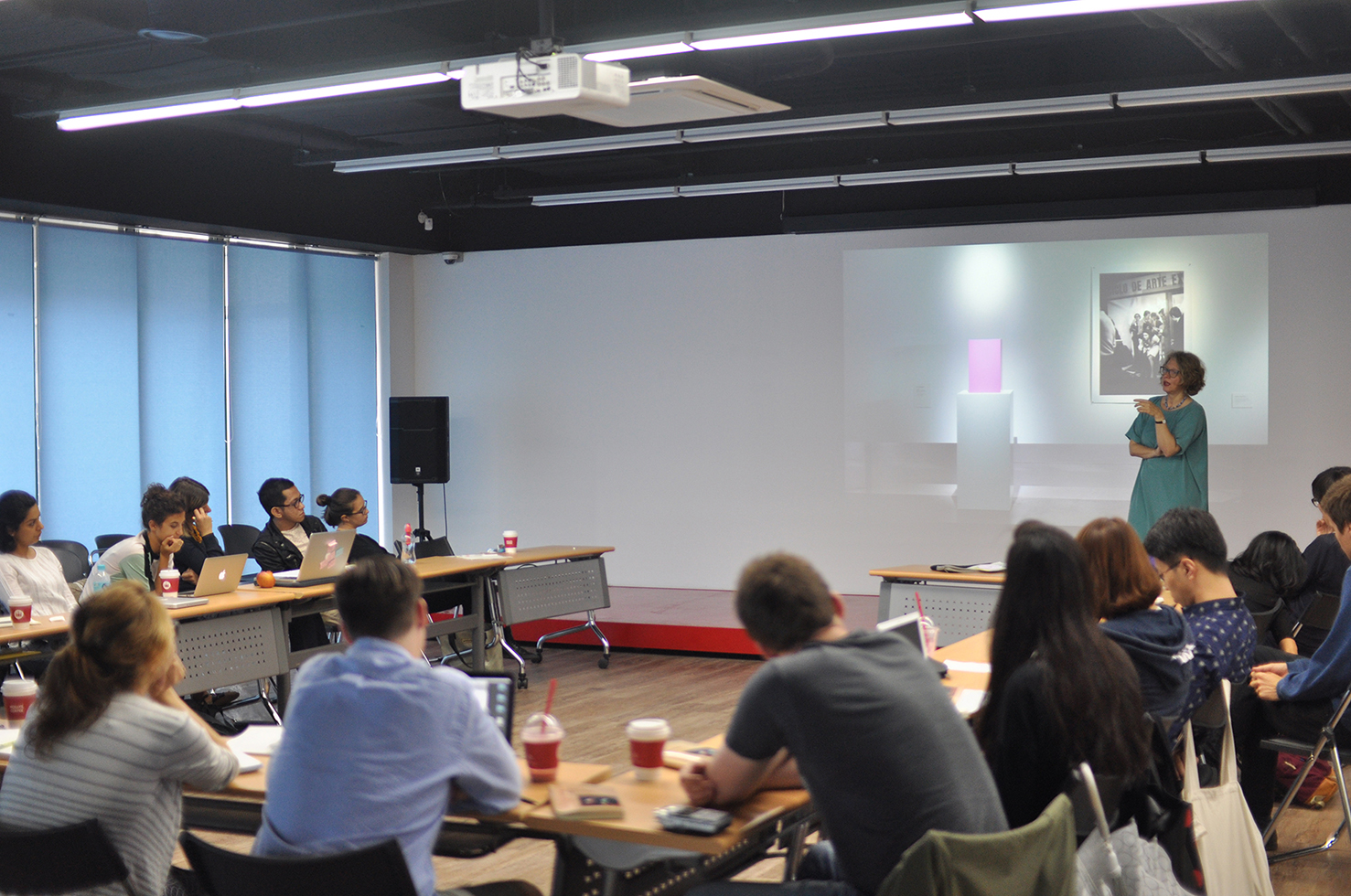 2014 Gwangju Biennale International Curator Course, led by Ruth Noack, Courtesy of Gwangju Biennale Foundation
Course dates:
August 8-September 3
Application submission period:
April 25-May 15
Host: Gwangju Biennale Foundation & Gwangju Metropolitan City
Principal: Yang-Woo Park (President, Gwangju Biennale Foundation)
Visiting Professor: Maria Lind (Artistic Director of 2016 Gwangju Biennale & Director of Tensta Konsthall in Stockholm) and Joanna Warsza (Head of CuratorLab at Konstfack in Stockholm)
The Gwangju Biennale is pleased to announce Maria Lind and Joanna Warsza as Visiting Professors of the 7th Gwangju Biennale International Curator Course.
Maria Lind is the Artistic Director of 2016 Gwangju Biennale and the Director of Tensta Konsthall in Stockholm, Sweden. Lind previously worked as a Director of the Graduate Program at the Center for Curatorial Studies, Bard College and co-curated Manifesta, the European Biennial of Contemporary Art in 1998. She also served as the Director of IASPIS in Stockholm. Selected Maria Lind Writing was published by Sternberg press 2010.
Joanna Warsza is curator and writer in the fields of visual, performing arts and architecture. Currently she is a Head of CuratorLab at Konstfack in Stockholm. She curated the Public Program of Manifesta 10 in St. Petersburg (2014), the Georgian Pavilion at the Venice Biennale (2013) and was associate curator of the 7th Berlin Biennale (2012). Joanna works predominantly with time-based and socially sensitive projects. She is based in Berlin.
The Gwangju Biennale International Curator Course (GBICC) was launched in 2009 as an open educational platform to foster the professional development of curators, theorists, and arts administratorsin various fields of contemporary art and design. Since its inception, the course has provided an open platform for collaborative education and expansion of curatorial practice as well as an opportunity for young curators to build an international network. In addition, the course offers a unique occasion to examine the cultural and aesthetic strategy of the biennale, working closely with the biennale director, curators and participating artists.
This year's lecturers will include curatorial team and participating artists of the 11thGwangju Biennale and several professionals in the field to discuss their rich experience.
The course has been previously led by Barbara Vanderlinden, Dan Cameron, Ute Meta Bauer, Jens Hoffmann and Carol Yinghua, Maria Lind and Ruth Noackas visiting professors. Past lecturersinclude: Nathalie Angles, Maurizio Bortolotti, Marco Burno, Yeon Shim Chung, Abraham Cruzvillegas, ByungsooEun, Anthony Fontenot, Beatrice Galilee, Eva FranchGilabert, MassimilianoGioni, Marieke van Hal, Yuko Hasegawa, Sharon Hayes, Nikolaus Hirsch, Tan Boon Hui, Michelle Hyun, Lu Jie, MamiKataoka, JesiKhadivi, Wassan Al-Khudhairi, Alice Kim, Heejin Kim, Sunjung Kim, Soonin Lee, Sohl Lee, Yongwoo Lee, Carol Yinghua Lu, Brendan McGetrick, Jessica Morgan, ReinekeOtten, HyungminPai, Marina Pugliese, Heidi Rabben, Francisco Sanin, Anton Scholz, Seung H-Sang, Stephanie Sykes, Tom Trevor, Jelena Vesic, Jun Yang, June Yap, and Ai Weiwei
In addition to the lecture program, the course participants will be given ample opportunities to take part in the preparation of the 11th Gwangju Biennale and visits to museums, galleries, and artists' studios in Gwangju and Seoul willalso be scheduled. The participantsare askedto make group presentations during the final week of the course.
The Gwangju Biennalewill grant tuition and accommodationsto all of the selectedparticipants for the entirecourse. Participants will be responsible for their round-tripairfaresto and from Gwangju and livingexpensesduringtheirstay. Since the course is designedtoprovideyoung curatorswithopportunitiestoreceive in-depthtraining, the age restriction for applicants has been set to33 and under.The entirecoursewill be conducted in English.
Application Submission
Application submission period: April 25–May 15, 2016
Applicationrequirements:
All documentsshould be written in English.
Application must include:
Application form (downloadable from www.gwangjubiennale.org)
CV
Motivationalstatementexplaining the applicant'sinterests and the purpose for applying (1,000 words max.)
Supporting materials: One or twocopiesof the most relevant publishedmaterials for curatorial/exhibitionrelatedprojectsthat the applicantparticipated in.
Submitteddocuments and/or materials will not be returned.
Submission process: Send by email (curatorcourse@gwangjubiennale.org).
Notification: Successfulcandidates will be contactedaround mid-June, 2016