GWANGJU BIENNALE FOUNDATION
CI
SYMBOL MARK

The design of the new symbol mark was drawn from the question, "How could we use art to let people see the world in a more exciting way?" Biennale aims to provide people with opportunities to see the world from an open perspective, not confined to any 'frames,' and the new symbol mark captures the identity of Biennale so perfectly. Its design represents a square frame disassembled into four parts. Each of those parts are in "ㄱ" shape, same as the first consonant of "Gwangju's Korean name." The symbol mark indicates a sustainable formative system to create visual images which flexibly change and enables us to send off messages to people around the world beyond the barriers of language.
SIGNATURE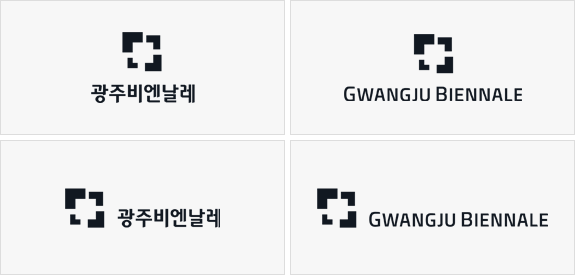 The signature is the most reasonable and flexible combination of the symbol mark and the logo of Biennale. A variety of combinations are available, so that one can pick a signature design best fitting a medium in use.
COLOR PALETTE

The main color of the symbol mark is "black." An achromatic color, meaning literally a color without color, black is the absence of or complete absorption of light.
The logo design defies the stereotype notion that things should always have colors. For every Biennale event, a theme color will be selected, based on which CI can be modified into E.I. and, as such, the logo can constantly put on a new look.