컨텐츠3
NEWS
2017 Gwangju Biennale Education Program for teachers_Exhibition Opened_12th Aug 2017
2017 Gwangju Biennale Education Program for teachers _Experience contemporary art and culture in dialogue with artists & other creatives [ART GREEN] Field Practicum followed by Exhibition Opening @ArtPoligon, Horanggasinamu, Gwangju, 18:00PM on 12th Aug Check out the artworks by teachers created through GB Education Program. Exhibition runs untill 19th Aug.
안내
International Curator Course
Media Coverage
Sponsors
Greeting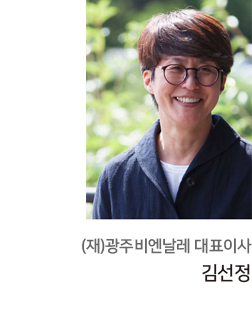 Welcome.
I'd like to express my gratitude to you for visiting our world art festival, the Gwangju Biennale.
For the last twenty-three years, the Gwangju Biennale has emerged as a network for international cultural exchanges and a platform for the visual arts, while producing discourses on contemporary art.ther issues.
Korean Major Biennale
Korean Major Arts Institution & Government Ministry
Gwangju Biennale Policy Proposal