컨텐츠3
NEWS
Gwangju Folly III THE I LOVE STREET opened to the public
Gwangju Folly III, 'THE I LOVE STREET' by Winy Maas (MVRDV, one of the leading architect groups in the Netherlands) has opened to the public with its completion. The folly, which consists of a fountain, sand pool, street board, viewing platform with stairs and the lawn, has installed in front of the main gate of Seoseok elemetary school, only one pedestrian-only area in Gwangju. It is expected for children and citizens to gather, play, relax and engage with their surroundings. The Gwangju Biennale Foundation and the Netherlands Creative Industries Fund will collaborate on the Gwangju Dutch folly through which The Critique of Everyday Life can be experienced from a new perspective based on the urban research conducted on the architects of the two countries. This folly explores and presents the potential of new urban follies by displaying various forms, programs and space.
안내
International Curator Course
Media Coverage
Sponsors
Greeting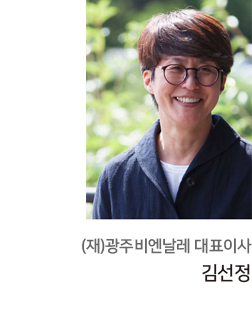 Welcome.
I'd like to express my gratitude to you for visiting our world art festival, the Gwangju Biennale.
For the last twenty-three years, the Gwangju Biennale has emerged as a network for international cultural exchanges and a platform for the visual arts, while producing discourses on contemporary art.ther issues.
Korean Major Biennale
Korean Major Arts Institution & Government Ministry
Gwangju Biennale Policy Proposal